Taylor Swift fans were shocked to see Jackson Mahomes cheering alongside their favorite pop star during Sunday's Kansas City Chiefs game.
Swifties have been consumed in all-things Travis Kelce lately, but flooded the Internet with memes upon seeing the 23-year-old former influencer partying with the "Anti-Hero" singer at Arrowhead Stadium.
Mahomes, the younger brother of Super Bowl-winning quarterback Patrick Mahomes, was arrested and charged with three counts of aggravated sexual battery and another count of battery stemming from a February incident in Johnson County, Kansas.
"I'm going to need someone to get her out of that box immediately, Jackson Mahomes is there," one user wrote on X, formerly Twitter.
Another user shared a video of a woman pushing a pastor off a stage and wrote on X, "Jackson Mahomes is close to Taylor Swift. What the Swifties want to do."
"Jackson Mahomes is a little too close to Tay Tay," one X user wrote. "Surprised the NFL hasn't sent a blocker up to the suite."
Former "The Bachelorette" star Nick Viall wrote, "Chiefs security should be ashamed for letting Jackson Mahomes in the same room as Taylor Swift."
Taylor and Brittany Mahomes were seen celebrating throughout the night from the comfort of their own luxury box as the new queens of Kansas City cheered on their favorite football players.
Swift has become a fan-favorite at the games, and made her debut as one of Kelce's guests at Arrowhead Stadium in Kansas City on Sept. 24.
One user wrote, "Is Jackson Mahomes allowed to stand that close to Taylor Swift?"
Fox News Digital contacted representatives for Swift and Mahomes.
Jackson was arrested in May and released on bail after posting $100,000 bond. Part of the conditions of his release barred him from publicly discussing the case. He has, however, denied the allegations.
Authorities in Overland Park, Kansas, responded to a call on Feb. 25, from a man who claimed Jackson Mahomes pushed his son, an employee at Aspens Restaurant, according to FOX 4 KC, citing a court document. 
The restaurant employee told officials that Mahomes shoved him when he tried to obtain his water bottle from the business' office.
The woman said Mahomes wanted to talk to her so they went into the office where he reportedly closed the door behind him, according to the outlet. She alleged that once they were inside the office, Jackson grabbed her by the throat, forced her head back and kissed her three times.
The woman said she did not consent, and attempted to push him away from her. Mahomes allegedly told her not to tell anyone what happened.
The woman told two servers what allegedly took place and showed injuries to her neck, the document said.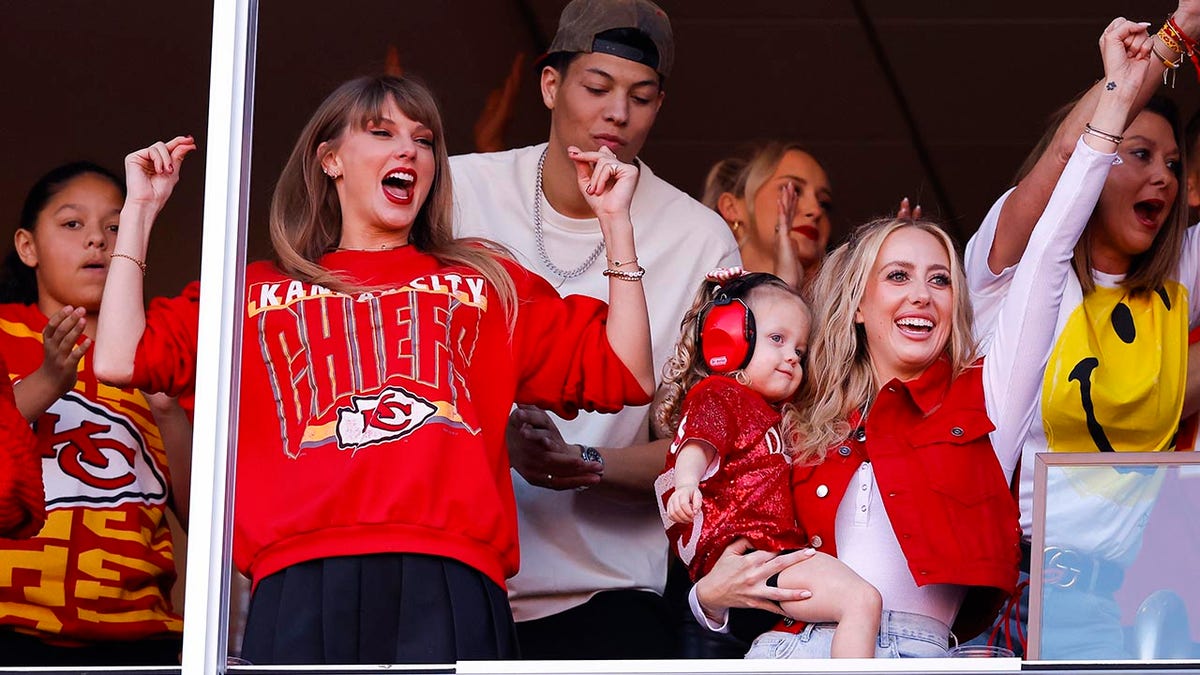 Jackson stood behind Taylor Swift and Brittany Mahomes in the suite at Arrowhead Stadium on Sunday. (David Eulitt)
Mahomes allegedly returned to the office to tell the woman what he would do for her business and refused to leave until she gave him a hug. The woman said she told her boyfriend what happened, and he kicked Mahomes and his group out of the restaurant, an affidavit said.
An initial preliminary hearing was scheduled for August, but was postponed until Oct. 24.