Coffee giant Starbucks filed a lawsuit against the union calling itself Starbucks Workers United over the improper use of the company's intellectual property in the wake of the union's controversial pro-Palestine post.
Following Hamas' terror attack against Israel on October 7, Starbucks Workers United published a since-deleted post on X, that said, "Solidarity with Palestine!" and quote-tweeted a post showing an image of a bulldozer breaking through the security fence that surrounds the Hamas-controlled Gaza Strip. Hamas terrorists breached the fence as part of their land, sea and air infiltration of Israel on their way to carrying out an attack that killed at least 1,400 Israelis and 31 Americans.
Starbucks pushed back against the union's post, which the company said resulted in some members of the public associating the company's names with the views espoused by the union, and issued a categorical condemnation of Hamas' terrorism.
"Starbucks wants to again express our deepest sympathy for those who have been killed, wounded, displaced and impacted following the heinous and unacceptable acts of terror, escalating violence and hate against the innocent in Israel and Gaza this week. Furthermore, we are deeply troubled by the spread of misinformation, inaccurate headlines and third-party social media posts stemming from statements made by Workers United," the company wrote last week.
"To be clear: We unequivocally condemn these acts of terrorism, hate and violence, and disagree with the statements and views expressed by Workers United and its members. Workers United's words and actions belong to them, and them alone."
Starbucks executive VP and chief partner officer Sara Kelly released a statement affirming that stance on Tuesday, writing that the union's post expressing support for Palestine in that context has had a negative impact on the company and its workers.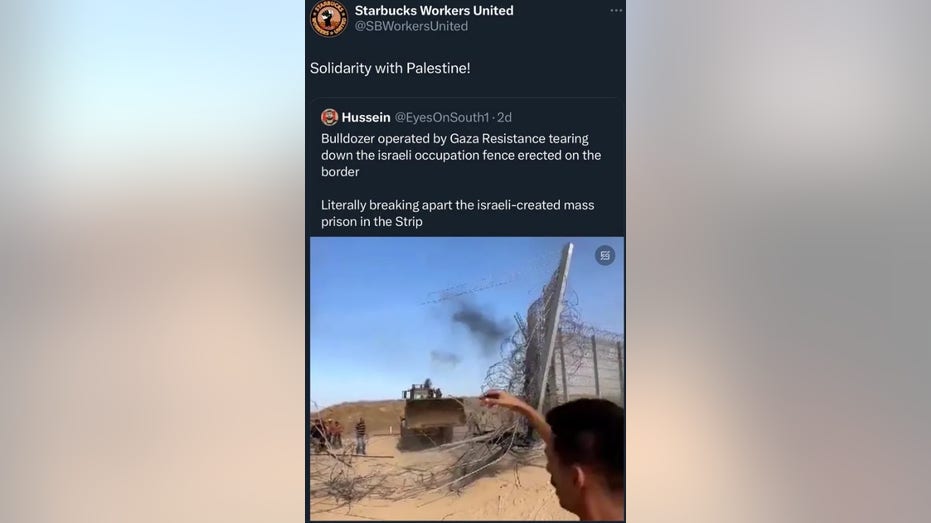 The deleted post from the Starbucks Workers United account on X, formerly Twitter. (Starbucks Workers United / X / Fox News)
"Shortly after October 7, Workers United posted a statement with an image of a bulldozer tearing down a part of the Israel and Gaza border, reflecting their support for violence perpetrated by Hamas. Unfortunately, as violence against the innocent in the region continues to escalate, some people are mistakenly tying these remarks to us, because Workers United and its affiliates and members continue to use our name, logo and intellectual property," Kelly wrote.
"The ongoing confusion from this misinformation has sadly led directly to incidents where angry, hurt customers are confronting partners in our stores and sending graphic and violent images to partners in our Customer Contact Center (CCC)," she explained.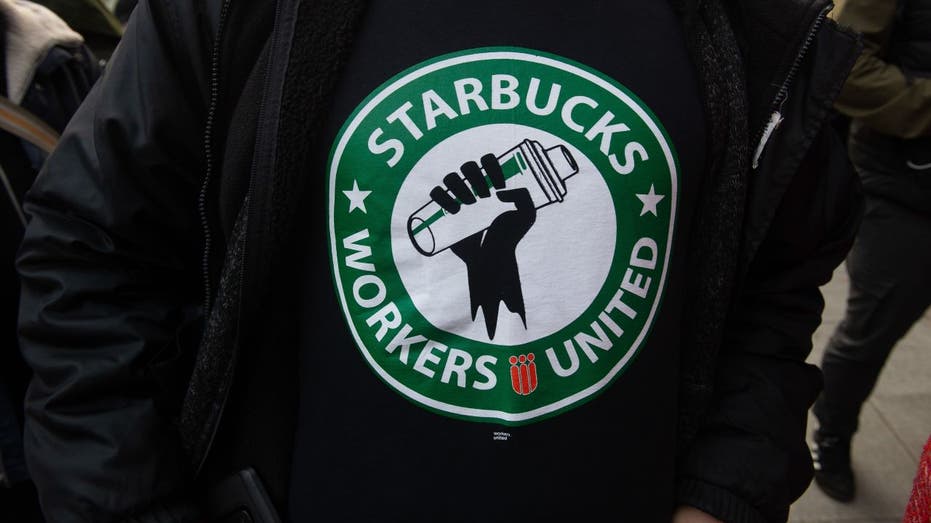 A protester wears clothing with the Starbucks Workers United emblem. (Photo by Guy Smallman/Getty Images / Getty Images)
Kelly's statement from this Wednesday noted the cease and desist letter requesting that Workers United "immediately stop using our company name, logo and intellectual property" and "issue an immediate correction" – a request she said the union rejected on Tuesday. "As a result, Starbucks will file litigation against the union in federal court, and we intend to pursue all legal options in defense of our partners and our company," Kelly wrote.
The cease-and-desist letter sent by Starbucks to Workers United on Friday said the union's use of Starbucks' name and brand "in connection with statements advocating for violence in the Middle East has caused, and is continuing to cause, Starbucks irreparable harm. Those communications have amplified an already volatile situation."
"By fomenting this anger, your organization has recklessly endangered the safety and well-being of hundreds of thousands of baristas around the world, including its own members and those who fled conflicts or have friends and family living in conflict," the Starbucks letter stated.
Starbucks filed its lawsuit against Workers United on Wednesday over the use of the company's name and symbols to identify themselves, claiming the union's infringement of intellectual property rights hurts the company's reputation and that efforts to distinguish itself from the union "have been to no avail."
In Workers United's response letter to Starbucks dated October 17, the union said that Starbucks' cease-and-desist letter "asserts that Workers United has made 'statements advocating for violence in the Middle East,' but does not identify such statement."
"Starbucks is seeking to exploit the ongoing tragedy in the Middle East to bolster the company's anti-union campaign. Your letter asserts frivolous legal claims, while falsely implying the union supports terrorism," union president Lynne Fox wrote. "Although your letter does not identify the 'statements' at issue, I assume you are primarily referring to a tweet that was posted on the Starbucks Workers United twitter account for approximately 30 to 40 minutes before it was deleted on October 9, 2023. You ignore my tweet, which supported the condemnation of violence and antisemitism posted by SEIU President Mary Kay Henry on October 10, 2023."
Workers United said that "no one would mistake" the posts from the Starbucks Workers United social media account as being statements made by Starbucks Corporation. It also said the union has a legitimate interest in using the company's name in the name of the union because of the absence of such confusion.
The union filed a lawsuit against Starbucks on Wednesday seeking a declaratory judgment regarding the use of the name "Starbucks" and the company logo, as well as a defamation claim against the company for its "public statements asserting that Workers United supports 'terrorism, hate and violence.' The company's statements are a transparent effort to bolster its illegal anti-union campaign by falsely attacking the union's reputation with workers and the public."
Workers United's legal filing stated that the controversial social media post was "an unauthorized tweet that was deleted after 30 to 40 minutes, which did not indicate that the Union supports terrorism. No reasonable observer could view that tweet, in context, as expressing the 'view' or 'position' that Workers United supports terrorism."