A community in Escambia County, Florida, is seeing an increase in squatting activity as homeless people camp on private property with little repercussions, according to witnesses.
"There are so many people going back and forth it's ridiculous," Brent resident Gwen Gibson told the Pensacola News Journal. "I've been on the phone with code enforcement and the sheriff's department. There are at least 15 to 20 people constantly walking down my driveway to get to their [camp] to buy drugs, prostitution, whatever they're doing back there."
Gibson lives next door to a plot of land owned by the Merrill family, which has been the site of homeless encampments in recent years. The Escambia County magistrate ordered the Merrill family to clean up the tents and trash by April of this year, which was delayed for months until August when local businessman Collier Merrill began removing the debris and forcing some of the campers off the property.
Merrill said he will now remove the squatters "by whatever means," according to the Pensacola News Journal. He has also posted no-trespassing signs on the property as well as security cameras, but he has not yet called the sheriff's office to trespass the people, according to the outlet.
Tents are set up along Murphy Lane in Brent, Florida. (Google Maps)
"We've been working on another project, hoping they would go ahead and move on their own, but actually they're not going to do that," said Merrill, "So, we are now making this a priority to get in compliance with the county."
Gibson, however, said the issue has only gotten worse since August, with more people showing up to the land every day and reportedly cutting across her property to get to the Merrill land.
"We had it solved when he cleaned it up and most of the people left," she said. "Now, once again, everybody keeps blowing smoke. All Merrill has done is make it a real nice place for them to live. The longer they wait to move people, the more people who come."
Gibson said that the squatting and homelessness issues near her property have even led to sickening scenarios. Some of the squatters allegedly used a tree on Merrill's property as a bathroom, which Gibson could see from her kitchen window. When hired crews worked to clean up the property in August, she said some of the workers became sick from the job.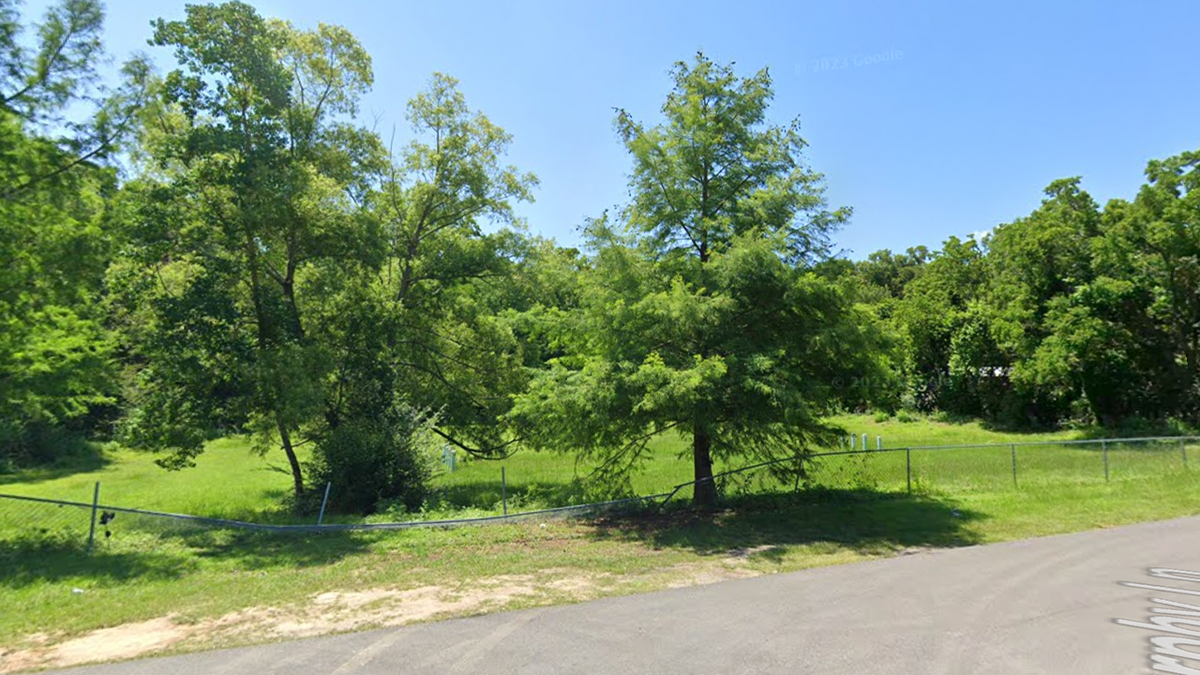 This view shows a wooded piece of land off Murphy Lane in Brent, Florida. (Google Maps)
Gibson added that she also deals with constant trash and fires built by the squatters near her fence line and has even found people passed out from drugs or fights laying on her property.
Other residents and political leaders in the area say that homelessness and squatting issues are getting worse.
"That is the biggest, No. 1 problem in the county," Escambia Commissioner Mike Kohler, who represents District 2, told the Pensacola News Journal. "There's no other complaint I get more than 'What are you doing about the situation?' And I know the other commissioners have to be getting it, too."
Escambia Senior Natural Resources Manager Tim Day said the issues worsened during the COVID-19 pandemic as people living in tents were not removed by the county in an effort to not spread the virus. Day said that the campers became more emboldened and less inclined to "hide," the outlet reported.
Residents and political leaders in the Brent, Florida, area say that homelessness and squatting issues are getting worse. (Michael Blackshire / Washington Post via Getty Images / File)
"Before COVID, they would have been deep in the property and there may not have been as many," Day said. "They would have been working hard to keep their encampment hidden from everyone so it's just not in your face. That's the result of what happened with COVID and the new normal that developed during COVID."
Gibson said she has been dealing with menacing interactions with the campers near her home due to her speaking out, including men armed with machetes allegedly standing near her property and staring at her when she leaves her home. She added that she has received angry phone calls from homelessness advocacy groups and got into a screaming match with a church group when she denied them permission to cut across her property to feed the squatters.
"I've been dealing with this for years. I feel very unsafe," said Gibson. "It's been hard, and sometimes I think I can't do this anymore, but I'm not giving up. I haven't done anything wrong. Why should I have to leave?"