Rep. Rashida Tlaib, D-Mich., a member of the far-left "Squad," repeated during a Wednesday protest the debunked claim that Israeli Defense Forces (IDF) were responsible for the bomb that struck a Gaza hospital, reportedly killing many civilians.
Tlaib also accused the Biden administration of funding a "genocide" against Palestinians as she wept while speaking to the crowd of protesters calling for a ceasefire in the ongoing war between Israel and Hamas.
"That's what's been really painful — just continue to watch people think it's okay to bomb a hospital where children. You know, what's so hard sometimes is watching those videos and the people telling the kids, 'Don't cry.' But like, let them cry! And they're shaking, and somebody — you know this — they keep telling them not to cry in Arabic. They can cry, I can cry, we all can cry. If we're not crying, something is wrong," Tlaib said.
"I'm telling you right now President Biden, not all America is with you on this one. And you need to wake up and understand that," she added. "We are literally watching people commit genocide and killing a vast majority… and we still stand by and say nothing. We will remember this."
Still intermittently crying, she went on to tell the protesters they were "on the right side of history."
Tlaib first repeated Hamas' claim that Israel bombed the hospital in a Tuesday post on X after news of the explosion broke. Hamas has continued to push the narrative despite video evidence and an assessment from the U.S. National Security Council that a terrorist group's own rockets caused the reported damage and deaths.
"Israel just bombed the Baptist Hospital killing 500 Palestinians (doctors, children, patients) just like that," Tlaib wrote.
Tlaib has not responded to Fox News Digital's requests for comments about her statements on the hospital explosion.
A spokesperson from IDF said in a tweet on Israel's main X account just hours later that the Christian hospital in Gaza was destroyed by a Palestinian Islamic Jihad rocket amid their barrage, not an Israeli missile.
Additionally, Fox News Digital found that a progressive consultant acting as a top fundraiser for Tlaib recently said she believed Israel intended to ethnically cleanse Palestinians, which came after she consistently projected anti-Israel viewpoints on social media.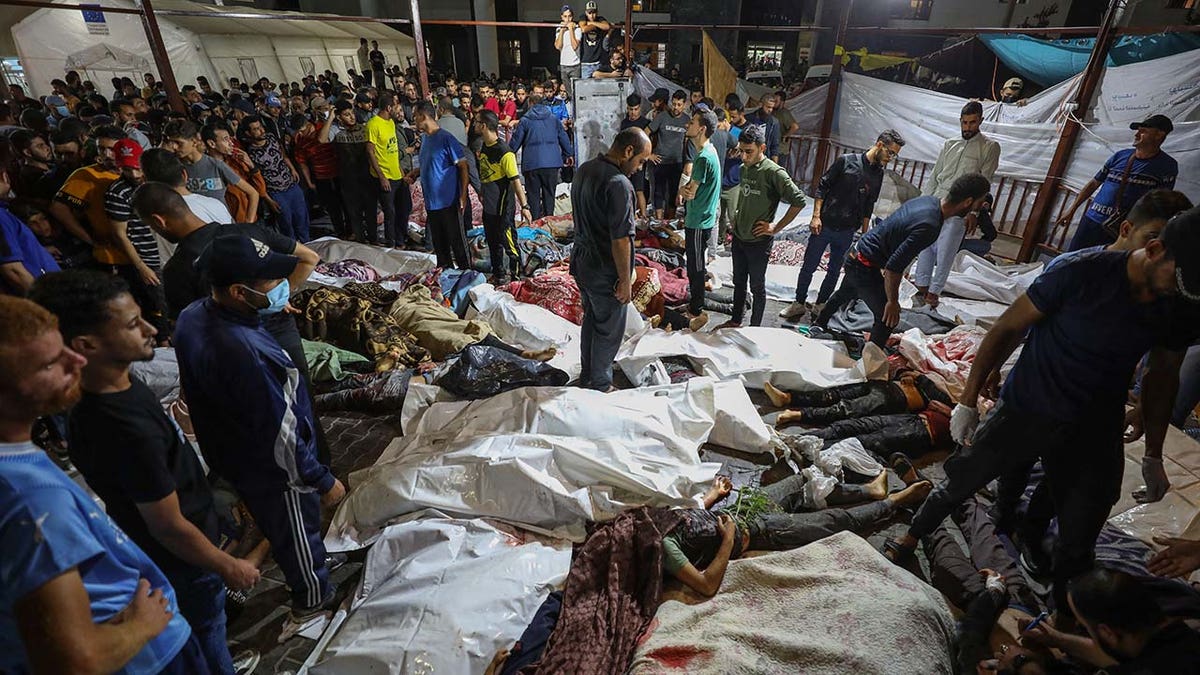 People gather around bodies of Palestinians killed in an explosion at the Ahli Arab hospital in central Gaza after they were transported to Al-Shifa hospital on Tuesday. (DAWOOD NEMER/AFP via Getty Images)
"The layers of grief that Palestinians experience can be difficult to contextualize – especially – when a large part is how normalizing the ongoing ethnic cleansing has grossly transcended," Rasha Mubarak wrote on X in September. "Forfeiting red lines generates the false idea that this is the fate of the Palestinian [people]."
This all comes just one week after Tlaib repeatedly dodged a reporter asking whether she condemned the brutal murders of babies by Hamas.