Hundreds of Jewish Americans have found themselves at the center of recent, internal threats as Israel seeks to defend itself from Hamas terrorists, leading those in the community to be on high alert as they continue worshipping in America.
Though they're more than 6,700 miles from where the war is being fought between Israel and Hamas terrorists from Gaza, Jewish Americans have been targeted in recent weeks over their religion and ties to the war-torn country.
Last weekend, multiple synagogues in Rhode Island and Massachusetts faced what ended up being empty threats meant to instill fear among Jewish Americans living in the area.
Boston 25 News reported that a state police bomb squad responded Saturday to a synagogue in Attleboro, Massachusetts, at the request of local police after a synagogue there received a bomb threat. In Rhode Island, a handful of synagogues were also targeted over the weekend with anonymous threats, all of which were submitted to each synagogue's contact desk page on their website, according to Stephanie Hague, a spokesperson for the Jewish Alliance of Greater Rhode Island.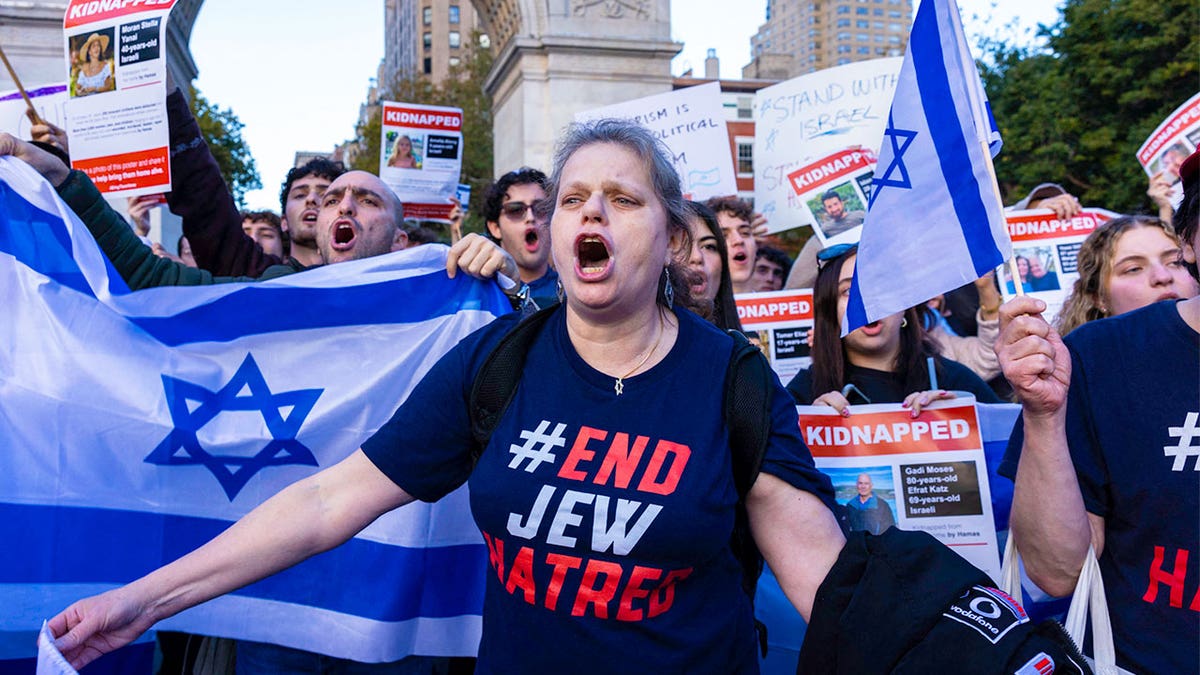 Pro-Israel counterprotesters chant toward a vigil organized by NYU students in support of Palestinians in Washington Square Park in New York City on Oct. 17, 2023. (Alex Kent / AFP via Getty Images)
"I don't want to go into so many details because I don't want to encourage copy cats," Hague, the Alliance's chief policy officer, told the Boston Globe. "It's similar to what's happening nationally."
One synagogue in the Chicago area – Kehilat Chovevei Tzion – was the target of a bomb threat last week. That threat was issued by a student at Niles North High School and ended up being "non-credible," according to Shaanan Gelman, the synagogue's rabbi.
"It turns out, you know, they were grossly inappropriate, irresponsible students. It wasn't a real threat, but it put us on alarm. We sent an email and sent the whole synagogue into panic for a few hours," Gelman told Fox News Digital of the threat. "Thankfully, we confirmed that it wasn't a credible threat, but this is a reality that when you have lives compromised in Israel due to terrorism, it signals to the world that Jewish blood is cheap. What it does is it gives you permission to make threats against Jews all over the world. That's our headquarters ... whatever happens to us there is going to be replicated elsewhere."
The threats faced by Jewish Americans in different corners of the country have steadily increased after Iranian-backed Hamas terrorists invaded southern portions of Israel and killed more than 1,400 Israelis this month.
The threats, according to Brooke Goldstein, a human rights attorney who serves as the executive director of The Lawfare Project, are part of a "coordinated effort to silence Jewish voices and create an atmosphere of fear that denies and delegitimizes Jewish identity."
"Whenever we see Jews being targeted – whether by terrorists' rockets aimed at our homes in Israel or by White supremacists or terrorist sympathizers on Western streets or on college campuses – Jew-hatred carries over to the most visible symbol of our identity and our faith: our synagogues," Goldstein told Fox News Digital. "Some of the threats against the Jewish community are very clearly coordinated, coming from Hamas sympathizers and sycophants like Students for Justice in Palestine (SJP) and WOL (Within our Lifetime) Palestine."
"They are a coordinated effort to silence Jewish voices and create an atmosphere of fear that denies and delegitimizes Jewish identity," she continued. "At the same time, some of the threats we see against synagogues come from lone actors whose warped hatred of Jews has long been inculcated by systemic Jew-hatred in schools and in society; their actions are a physical manifestation of the dehumanization of the Jewish people fostered in social media, in schools and in the public space."
Taking issue with the lack of condemnation that "pro-Hamas sympathizers" in America have received in recent days, Goldstein, who founded the End Jew Hatred movement, said, "Right now, we are seeing pro-Hamas sympathizers literally marching in the streets and on campuses, calling to globalize the intifada (violence) and being met with little more than mealymouthed condemnation."
"The lack of consequences only encourages threats and acts of violence against Jews at places where we are most likely to be found," she added.
Goldstein said it's time for Americans to unite and "promote social justice and enforce the civil rights of the Jewish people," insisting that it is the only effort that will prevent Jewish Americans and synagogues from being "targeted with violence" in the future.
Several Jewish Americans told Fox News Digital recently that members of their community are remaining vigilant and steadfast in their practices of worship after a call for global protests against Israel from Khaled Meshaal, the former chief of Hamas' political bureau for more than 20 years.
"Us Jews living in America have always faced, unfortunately, the fear of persecution," said Rabbi Yoni Fein, who serves as the head of a southern Jewish school. "It's been, unfortunately, for thousands of years we've had this. … You know, that's the impact, the psychological impact of terror they want to place on people as far away as possible – that we have a fear of going about our way of life."
"We're not going to let that happen," he added.