The Minnesota Golden Gophers won a low-scoring bout to Iowa, 12-10, on Saturday night. But the result looked to be a Hawkeyes victory late in the game until referees called back a controversial punt return.
Iowa's Cooper DeJean was set to receive a punt from Minnesota, which was deep in their own zone with 2:06 left to play in the game. The Hawkeyes' defense forced a three-and-out, giving their offense an opportunity to go down the field with good position to win the game.
When the punt was away, DeJean immediately noticed that the ball was going to be short, so he pointed at where the ball would land for his teammates to recognize its spot. In doing so, DeJean was also waving his left hand, though it didn't look to be a clear fair catch signal.
The ball bounced, and instead of just letting it go out of bounds, DeJean decided to scoop it up and attempt a return. For some reason, no Golden Gopher on the punt coverage team decided to push DeJean out of bounds close to the sideline, which he took full advantage of.
DeJean raced down the field and wound up in the end zone to the dismay of the home Minnesota crowd. Meanwhile, Iowa was elated that DeJean was able to score on what looked to be a simple change of possession, giving them a 16-12 lead with less than two minutes to play.
It ended up being that change of possession when referees ruled that DeJean was signaling for a fair catch after review.
During the NBC broadcast, rules analyst Reggie Smith explained why this was the right call to make in the situation.
"Initially, the punt returner points at the ball, which is something that's allowed. However, with his left hand. He begins giving the getaway signal, as you can see him waving here. This constitutes an invalid fair catch signal. It's not a penalty, but it causes the ball to become dead at the spot of the recovery. Proper ruling."
Iowa was still able to acquire great field position with enough time left to at least kick a field goal for the victory. But the possession ended with an interception by the Golden Gophers to secure the win.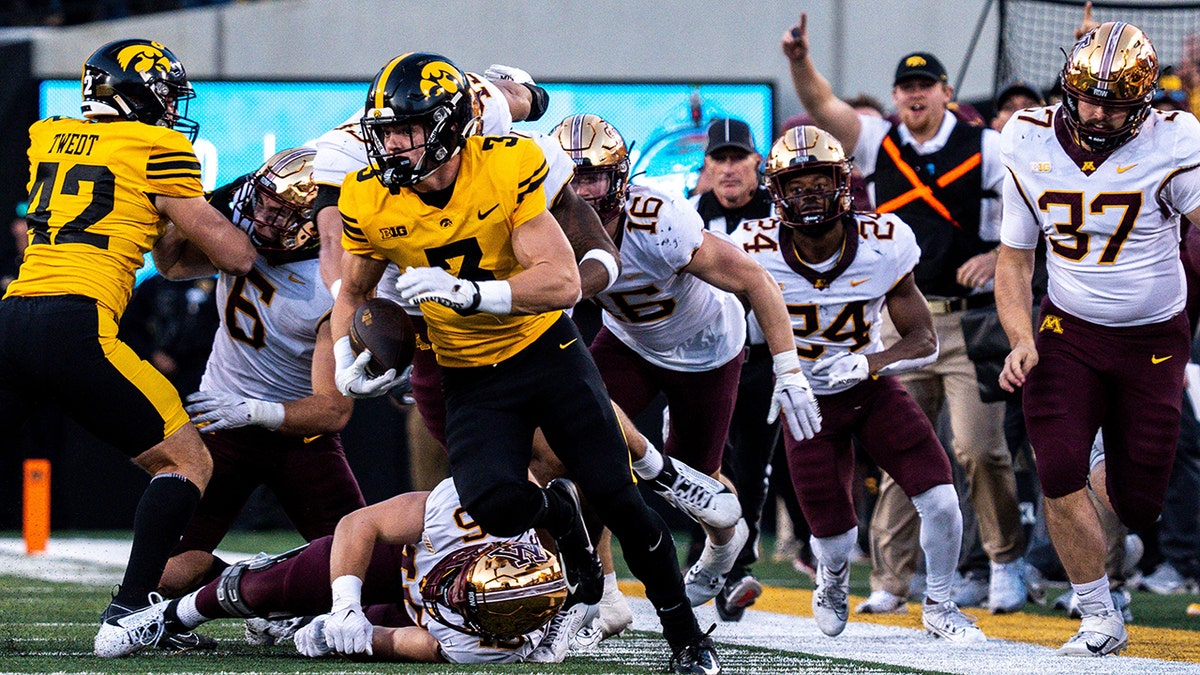 The loss for the Hawkeyes pushed them to 6-2 on the year, and 3-2 in Big 10 conference play. (USA Today Sports)
The loss for the Hawkeyes pushed them to 6-2 on the year, and 3-2 in Big 10 conference play. Minnesota, on the other hand, improved to 4-3 for the season.