Secretary of State Antony Blinken on Sunday claimed Hamas has disrupted the departure of foreign nationals from the Gaza Strip, adding that Egypt is prepared to help with getting people out and aid into the area.
Blinken was interviewed by Randa Abul Azm of Al-Arabiya on Sunday, who asked the secretary about efforts to get civilians out of harm's way in Gaza, as Israel stages a ground offensive.
Azm prefaced a question to Blinken about getting humanitarian aid into Gaza and evacuating foreign nationals by saying, "The efforts to evacuate foreign nationals from Gaza Strip has been blocked by Israelis."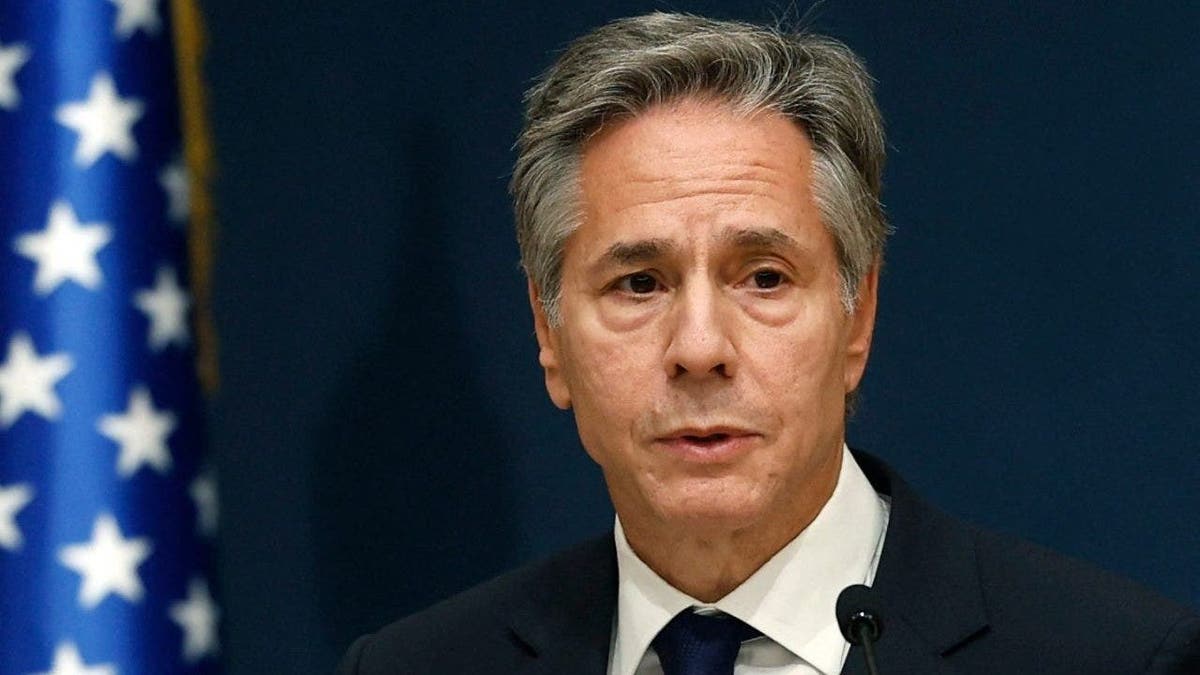 U.S. Secretary of State Antony Blinken speaks during a press conference with Qatars Prime Minister and Foreign Minister following their meeting in Doha on October 13, 2023. US Secretary of State Antony Blinken on October 13, 2023, began a tour of six Arab capitals to build pressure on Hamas while Israel readies a massive offensive on the Gaza Strip following the militants attacks. ((Photo by KARIM JAAFAR / AFP) (Photo by KARIM JAAFAR/AFP via Getty Images))
Blinken had a different take on the matter.
"Israel is not blocking the departure of foreign nationals," he said. "The problem has been Hamas has disrupted that, and of course, we have to make the necessary arrangements."
He went on to say Egypt authorities are ready to help with the departure of citizens and foreign nationals.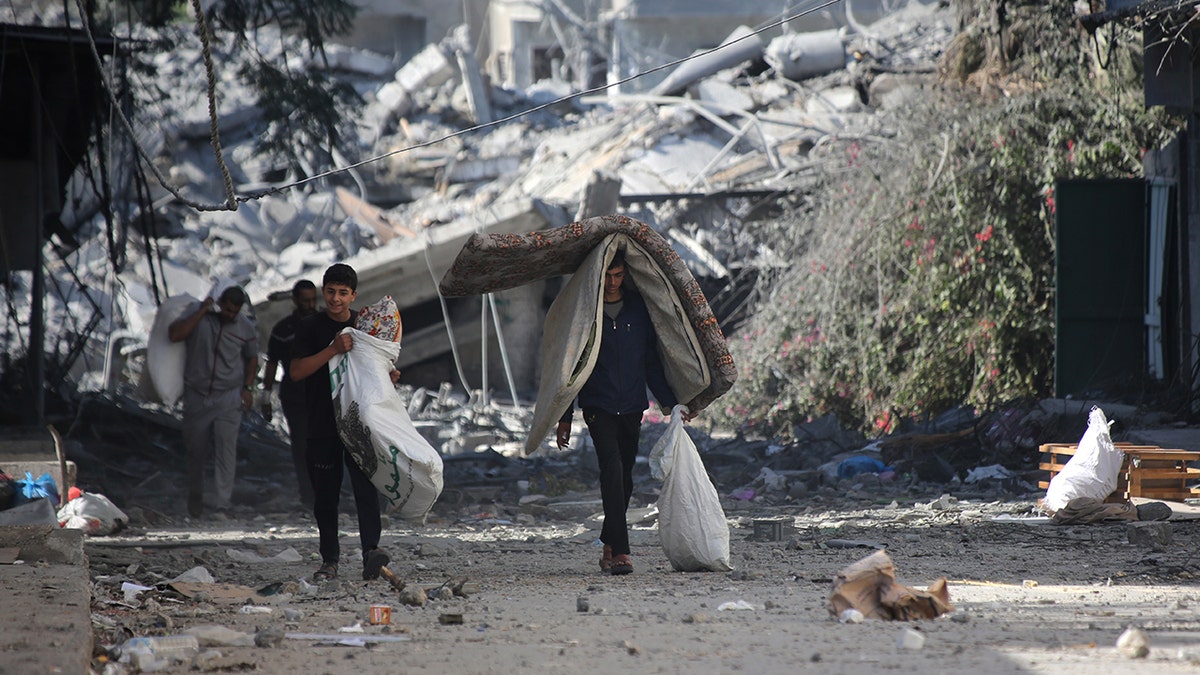 Palestinians displaced from their homes as a result of Israeli raids on October 13, 2023, in Gaza City, Gaza. Israel has sealed off Gaza and launched sustained retaliatory air strikes, which have killed at least 1,400 people with more than 300,000 displaced, after a large-scale attack by Hamas. On October 7, the Palestinian militant group Hamas launched a surprise attack on Israel from Gaza by land, sea, and air, killing over 1,300 people and wounding around 2,800. Israeli soldiers and civilians have also been taken hostage by Hamas and moved into Gaza. The attack prompted a declaration of war by Israeli Prime Minister Benjamin Netanyahu and the announcement of an emergency wartime government. (Ahmad Hasaballah/Getty Images)
"At the same time, Egypt is fully prepared – and we're working with them – to get assistance in," Blinken said. "And we're putting in place a system – working with the United Nations, working with Egypt, working with other countries – to make sure that the assistance can get into Gaza, get to the people who need it."
The secretary accused Hamas of putting civilians in harm's way, knowing its actions would bring "a strong reaction," but went ahead with its attack anyway.
"And the fact of the matter is this: What does Hamas do? Hamas makes sure that all of its critical leaders, that its command centers, that its weapons, its ammunitions are all located in residential areas, in residential buildings or buried underneath hospitals, schools, and supermarkets," Blinken said. "They know – they are using Palestinians of Gaza as human shields, and that, too, is disgraceful."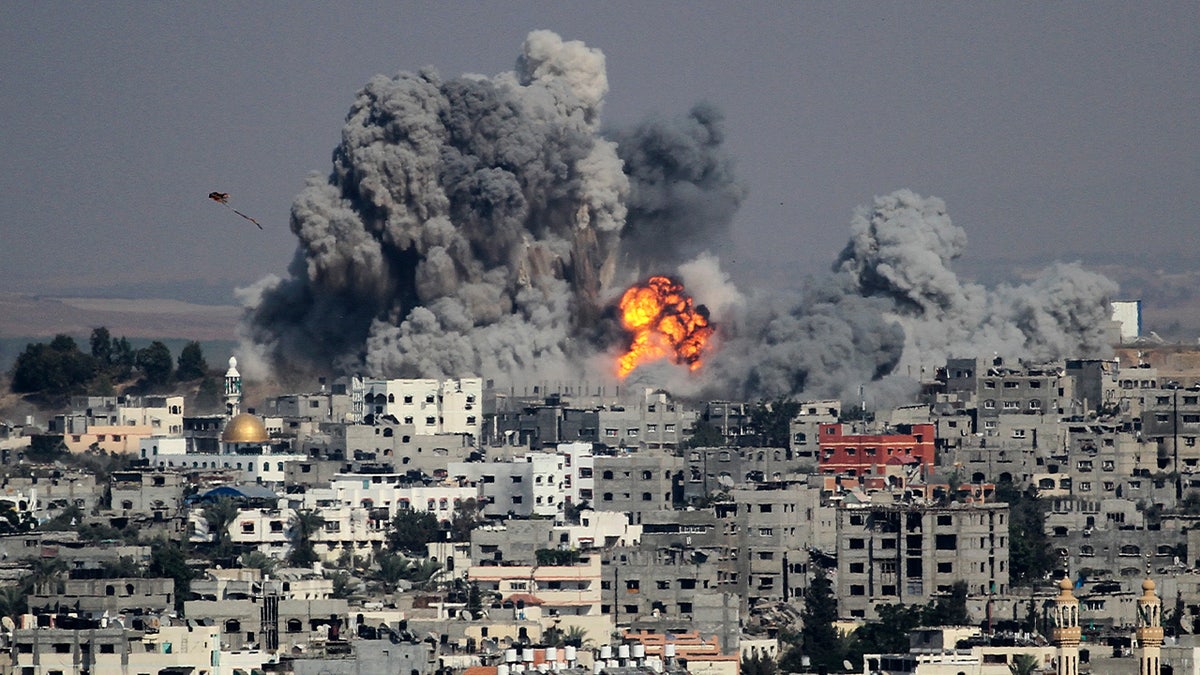 Smoke rises after an attack of Israeli aircraft in the east of Gaza City on July 29, 2014. The home of Hamas Gaza political leader Ismail Haniyeh was among the locations targeted by air, sea and land strikes overnight in the heaviest bombardment of Gaza since the start of the conflict in July, local health officials say at least 100 people have been killed in Gaza within just 24 hours. (Photo by Sameh Rahmi/NurPhoto) (Photo by NurPhoto/Corbis via Getty Images) (NurPhoto/Corbis via Getty Images)
Several countries have started to raise concerns about the growing humanitarian crisis in Gaza as Israel prepares to invade the territory after falling victim to a surprise attack by Hamas-led terrorists.
Discussions about getting humanitarian aid to Gaza have taken place at various levels, with an urgency to move as "quickly as possible on the critical issue of humanitarian access in Gaza."
At least 3,200 people have been killed since Hamas launched thousands of missiles into Israel last week, including at least 1,300 Israeli civilians and soldiers and 27 Americans. Palestinian health authorities say at least 2,215 Palestinians have been killed, and more than 8,700 wounded.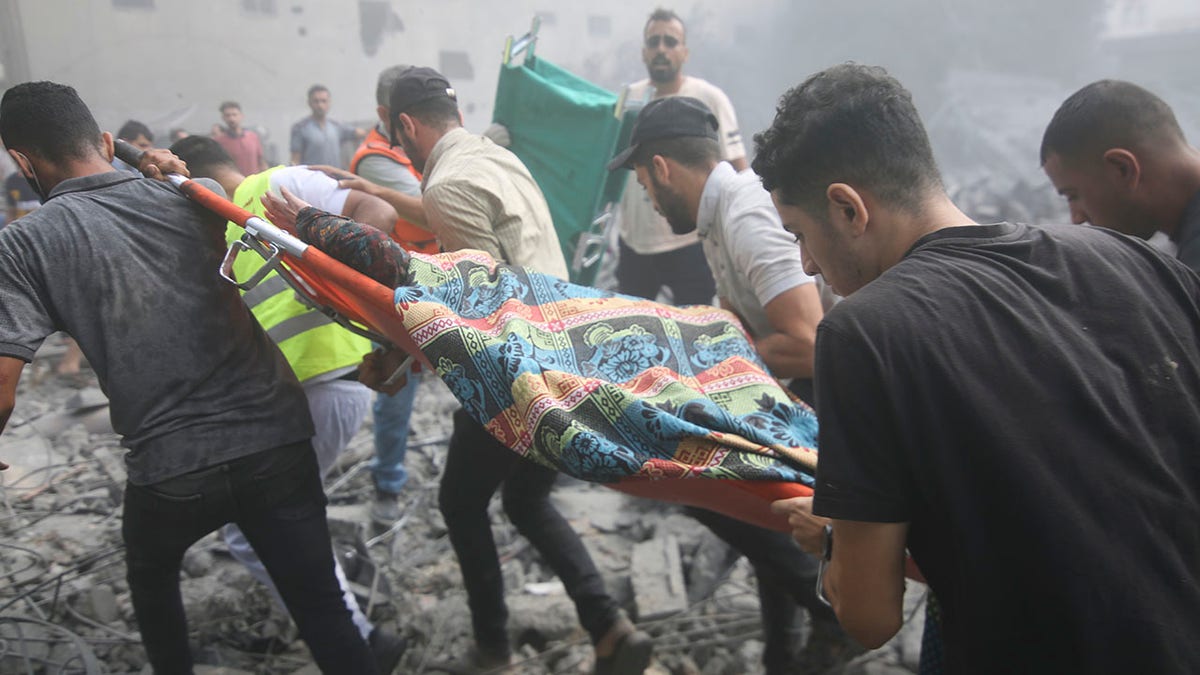 Palestinians evacuate wounded after an Israeli airstrike in the city of Rafah in the Gaza Strip on Thursday. (AP/Hatem Ali)
On Friday, Israel issued a warning for residents in northern Gaza to evacuate the area within 24 hours as a "humanitarian step" that aims to "minimize civilian casualties" during its planned ground offensive into the territory.
The United Nation's Office for the Coordination of Humanitarian Affairs reported that the cumulative figure of displaced individuals has exceeded 338,000, "of whom over two-thirds are taking shelter in schools run by the UNRWA," referring to the Relief and Works Agency for Palestine Relief in the Near East.
The U.S. urged Israel to delay the start of the operation to allow the 1.1 million people living in the north to relocate. President Biden and Blinken have both repeatedly stressed the need for Israel to adhere to the "rules of war."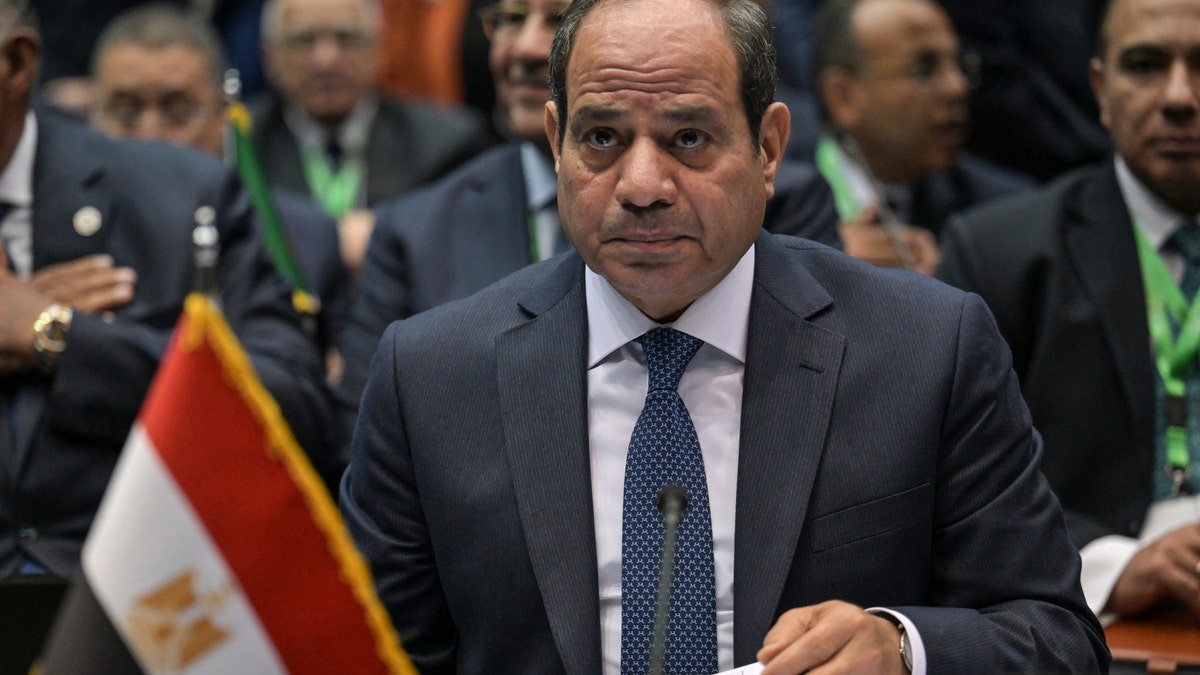 Egyptian President, Abdel Fattah al-Sisi listens during the 5th mid-year coordination meeting of the African Union, at the United Nations (UN) offices in Gigiri, Nairobi, on July 16, 2023. (Simon Maina/AFP via Getty Images)
The U.S. has reiterated that Hamas is responsible for the current atrocities and do not reflect the Palestinian people, who must be protected.
Egyptian President Abdel Fattah el-Sissi called for access through Rafah in a speech Thursday, but he also warned against letting in large numbers of Palestinians.
"The threat there is significant because it means the liquidation of this (Palestinian) cause," el-Sissi said at a military college graduation ceremony in Cairo. "It's important for its people to stay steadfast and exist on its land."
The Egyptian Foreign Ministry later called the evacuation order a "grave violation" of international law.
Egyptian officials have long feared that Israel seeks to make their country responsible for Palestinians in Gaza, which Egypt ruled between the 1948 and 1967 Mideast wars. Egypt has joined Israel in its blockade of the Gaza Strip since the Hamas takeover, tightly controlling entry of supplies and the exit of people.