President Biden's retelling of a 15-year-old story about a minor fire at his Delaware home is facing renewed backlash after he told victims of the deadly Hawaii wildfires Monday he shared "a little sense" of what they were going through.
While visiting the fire-ravaged remains of Maui, Biden recalled the fire that started at his Wilmington home due to lightning.
"I don't want to compare difficulties, but we have a little sense, Jill and I, of what it was like to lose a home," Biden said. "Years ago, now 15 years, I was in Washington doing 'Meet the Press'. … Lightning struck at home on a little lake outside the home. Not a lake. A big pond. It hit the wire and came up underneath our home, into the … air condition ducts.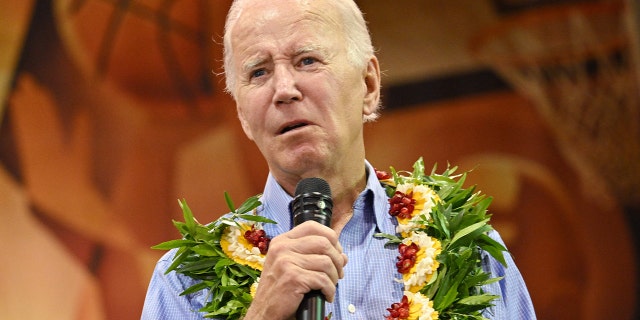 President Biden speaks during a community engagement event at the Lahaina Civic Center in Lahaina, Hawaii, Aug. 21, 2023. (Mandel Ngan/AFP via Getty Images)
"To make a long story short, I almost lost my wife, my '67 Corvette and my cat."
Biden has recalled the story multiple times in recent years in an apparent attempt to connect with victims of natural disasters.
A 2004 report from The Associated Press, archived by LexisNexis, said lightning struck the Bidens' home and started a "small fire that was contained to the kitchen."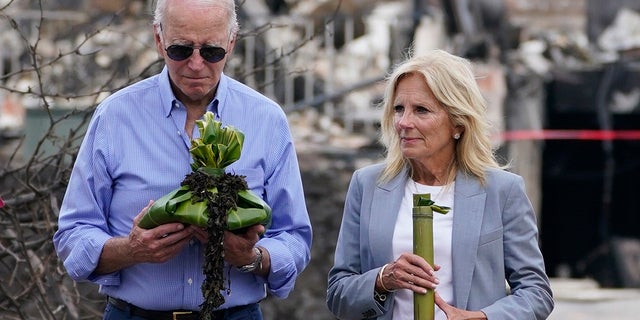 President Biden and first lady Jill Biden participate in a blessing ceremony with the Lahaina elders at Moku'ula as they visit areas devastated by the Maui wildfires Monday, Aug. 21, 2023, in Lahaina, Hawaii. (AP)
The report said firefighters got the blaze under control in 20 minutes, and they were able to keep the flames from spreading beyond the kitchen.
The Republican National Committee posted videos Tuesday showing Biden telling multiple variations of the story.
In October of last year, Biden told Hurricane Ian victims in Florida that he lost "an awful lot" of his home due to the fire.
In January 2022, Biden told Colorado wildfire victims he "almost" lost his home to the fire and that the fire destroyed about 25% of it. But when speaking to the Summit on Fire Prevention and Control in October 2022, he said the smoke from the fire destroyed "everything" from the basement to the attic, and that "we almost lost a couple firefighters" who responded to the blaze.
In November 2021, Biden said he "had a house burn down with my wife in it. She got out safely, God willing."
Biden's comments Monday to the victims in Maui drew comparisons to when the president was accused of showing a lack of empathy to the Gold Star families of the service members killed by a terrorist attack in Kabul during the Afghanistan military withdrawal in 2021.
Several Gold Star families recalled Biden repeatedly talking about the death of his son Beau, who served in Iraq with the Army but ultimately died of brain cancer in 2015.
"It's the same callousness Biden showed toward the Gold Star Families after his Afghanistan withdrawal," Sen. Tom Cotton, R-Ark., posted on X, formerly Twitter. "The cruelty and lack of empathy shows Biden's real character."
Several Gold Star families are still speaking out against Biden's treatment toward them following the Kabul airport terrorist attack that killed 13 U.S. service members Aug. 26, 2021.
Rep. Darrell Issa, R-Calif., said he's still awaiting a response from the White House about a meeting he requested between Biden and the families, who will be in Washington, D.C., this month.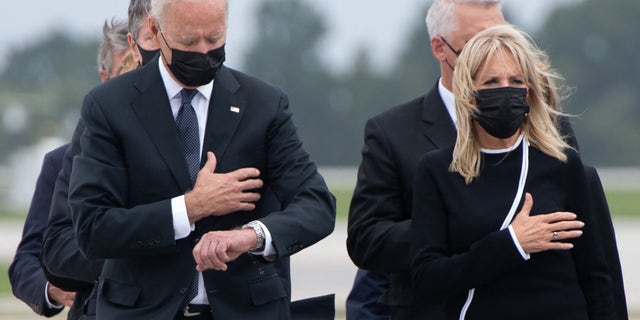 President Biden alongside first lady Jill Biden as they attend the dignified transfer of the remains of a fallen service member at Dover Air Force Base in Dover, Delaware, Aug., 29, 2021. (Saul Loeb/AFP via Getty Images)
Following the death of her brother in Kabul, Cheyenne McCollum said the president would not look her family in the eye and spent their three-minute conversation talking about Beau.
"I was able to stand about 15 seconds of his fake, scripted apology, and I had to walk away," Cheyenne told "Fox & Friends" in 2021.
Shana Chappell, the mother of Lance Cpl. Nikoui, wrote a scathing Facebook post at the time saying Biden hijacked their conversation by talking about Beau and that he rolled his eyes when she challenged him.
The White House did not respond to Fox News Digital's request for comment.