Republican Marsha Blackburn of Tennessee currently leads Democrat Phil Bredesen in the race to replace retiring GOP Sen. Bob Corker, as that and other key congressional races remain too close to call.
The Fox News Decision Desk cannot yet project a winner in the Tennessee Senate race. Pop star Taylor Swift endorsed Bredesen in the race's final weeks, and President Trump has campaigned heavily for Blackburn to keep the seat in the Republican column.
Voters in more than half of the 50 states have now locked in their ballots, and the results of some of the most closely watched and consequential Senate and House contests in the midterms are still undetermined as Democrats look for signs of the blue wave they have predicted in recent days.
The Missouri contest between Democratic incumbent Sen. Claire McCaskill and Republican challenger Josh Hawley, the state's attorney general, is too close to project a winner, according to the Fox News Decision Desk. McCaskill said on Monday she doesn't "really care" if Democrats retake the Senate, in an apparent effort to appeal to moderate voters in a state Trump carried by double digits in 2016.
Similarly, the race between New Jersey Democratic Sen. Bob Menendez and Republican businessman Bob Hugin is too close to call. And in West Virginia, Democratic Sen. Joe Manchin -- the only member of his party to vote to confirm Supreme Court Justice Brett Kavanuagh -- is trying to fend off a challenge by Republican Attorney General Patrick Morrisey.
In Indiana, where incumbent Democratic Sen. Joe Donnelly is up against Republican businessman and former state representative Mike Braun, the race is also tight and too close to call, according to the Fox News Decision Desk. President Trump carried the state by 19 points in the 2016 presidential race, and Republicans have fought hard to flip the seat.
The Indiana Senate seat is one of a handful that Republicans have long sought to flip as they look to expand their narrow 51-49 majority in the Senate. Trump staged a rally in Indiana on Monday to boost Braun, becoming the first sitting president to visit Fort Wayne since Ronald Reagan in 1982 and underscoring the national implications of the race.
If Donnelly manages to hang on despite the GOP undercurrent in Indiana -- and his vote against the confirmation of Kavanaugh -- Republicans would have reason to fear that Trump, who has crisscrossed the country to host more than two-dozen rallies in the past two months, might not produce the much-needed bumps at the ballot box they had hoped for.
Meanwhile, the Fox News Decision Desk projects that Democratic Virginia Sen. Tim Kaine will win a second term tonight by beating Republican challenger Corey Stewart. And Vermont independent Sen. Bernie Sanders, who identifies as a democratic socialist, will easily win a third term by defeating Republican Lawrence Zupan.
And Democratic Sen.Elizabeth Warren win a second term in Massachusetts, although she is already considering a presidential run in 2020. Warren defeated Republican Geoff Diehl, a state lawmaker. In another expected result, the Fox News Decision Desk can project that incumbent Democratic Sen. Sherrod Brown will win a third term by defeating Republican Rep. Jim Renacci.
But most races remained too close to call as votes continued to be counted. Democrats are particularly hoping to flip Virginia's 5th, 7th, and 10th Congressional Districts, turn the Georgia and Florida governor's mansions blue, and fend off a challenge to longtime incumbent Florida Sen. Bill Nelson by outgoing GOP Gov. Rick Scott.
"Everything we have achieved is at stake," Trump, who announced that he will watch the election returns at the White House with family and friends, declared on Monday. Trump has openly characterized the first nationwide election since his rise to the presidency as a referendum on his tenure, which has seen significant economic growth and a rise in partisanship.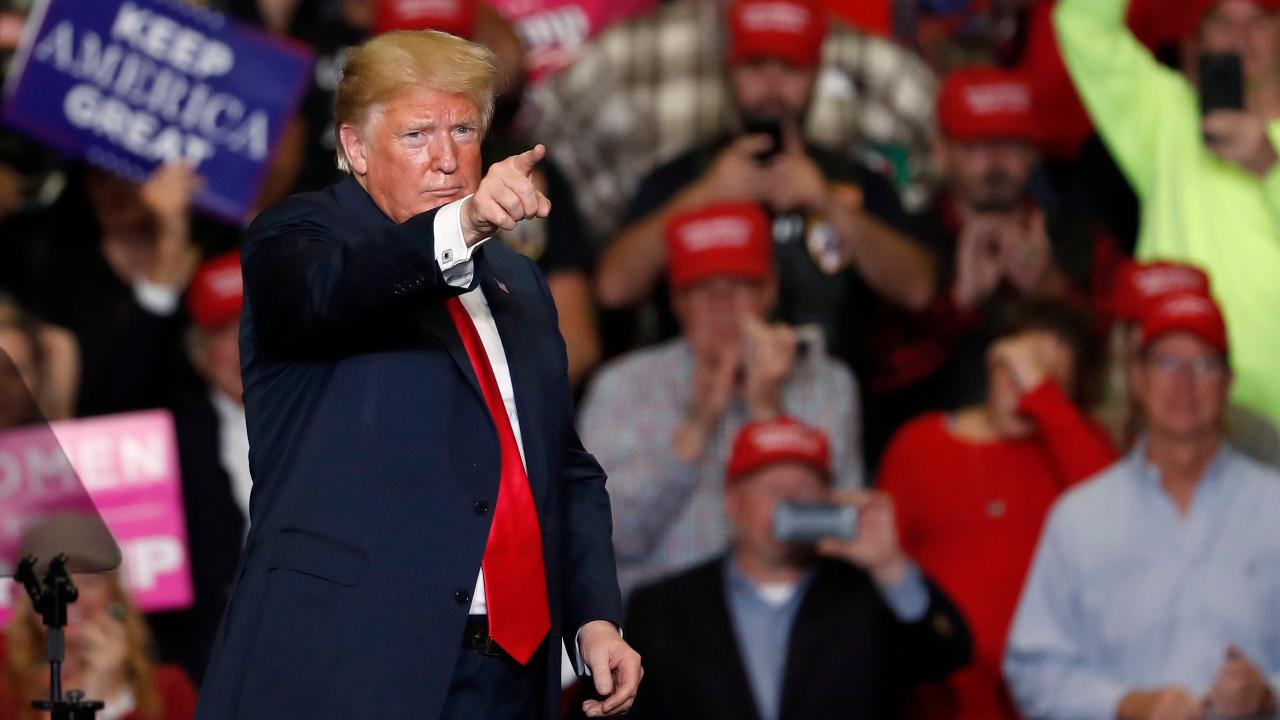 Kentucky's 6th Congressional District, where Republican incumbent Rep. Andy Barr and Democrat Amy McGrath have been competing in a neck-and-neck race, could be an early opportunity for Democrats to flip a seat in a GOP-leaning district. McGrath, the first female Marine to fly an F/A-18 on a combat mission, has campaigned on a largely anti-Trump platform.
Another key battleground is Northern Virginia's 10th Congressional District, where GOP Rep. Barbara Comstock, who took office in 2014, is considered one of the most vulnerable incumbent Republicans nationally. She faces a formidable challenge from lawyer and Democratic state Sen. Jennifer Wexton.
Wexton has aggressively tied Comstock to Trump, who is unpopular in the district in part because of his proposals to slash federal employees' benefits. In 2016, Comstock had urged Trump to drop out of the presidential race after the release of the infamous "Access Hollywood" tape, saying she could not "in good conscience" vote for him. But she has since largely backed his legislative agenda.
Virginia's 5th Congressional District is home to incumbent GOP Rep. Tom Garrett, who announced that he would not seek re-election earlier this year amid mounting scandals. While the district supported President Trump in 2016 by double-digits, the contest has been tight between Democratic candidate Leslie Cockburn, a former journalist who favors Medicare-for-all, and staunch Republican Denver Riggleman.
Democrat and former CIA officer Abigail Spanberger is challenging Tea Party-affiliated Republican Rep. Dave Brat, who has represented the state's 7th Congressional District since 2014, when he stunned the nation by unseating then-House Majority Leader Rep. Eric Cantor. Trump also carried this district by 7 points in 2016, and it has had a Republican representative for almost 50 years. But changing demographics have put it in play, analysts say.
At 9:00 p.m. ET, polls will close in several more states with marquee races, including Wisconsin, Texas, Minnesota, Colorado, and Arizona.
On the gubernatorial side, Tallahassee mayor Andrew Gillum could make history as Florida's first black governor if he defeats Republican Ron DeSantis to replace Scott, who is term-limited. Gillum supports Medicare-for-all and abolishing the Immigration and Customs Enforcement (ICE) agency, and he has the backing of liberal megadonors like billionaire Tom Steyer in his bid to shift the state dramatically to the left. His agenda contrasts sharply with DeSantis, a hard-line Republican who cut an advertisement in which he teaches his child to "build the wall" with toy blocks.
The race is currently too close to call.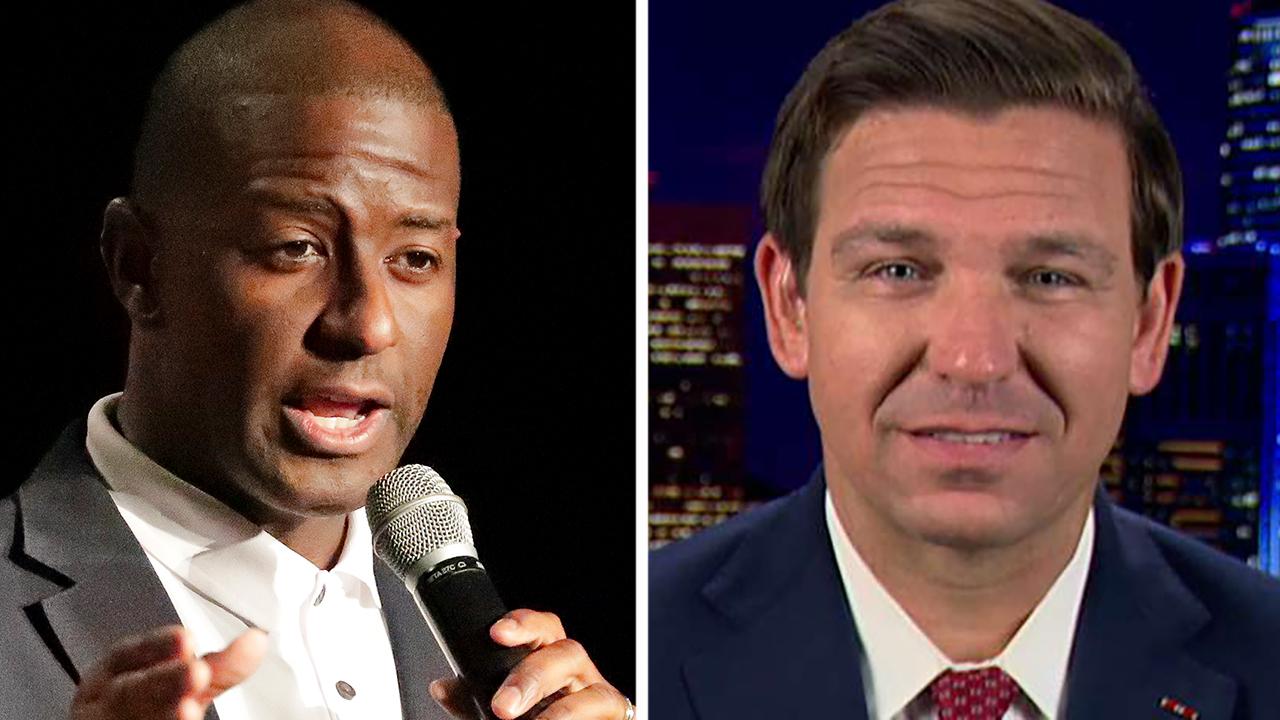 And in Georgia, Democrat Stacey Abrams could also make history as the country's first black female governor. She is facing off against Georgia Secretary of State Brian Kemp, whose hard-line voter registration policies have drawn rebukes from civil-rights groups and a federal judge, and Libertarian Party nominee Ted Metz. Kemp announced that his office was investigating "possible cyber crimes" by the Georgia Democratic Party on Sunday, throwing a last-minute wildcard into the race. It is too early to call that race.
Depending on Tuesday's vote totals, Georgia may not have a governor-elect for several more weeks. Under Georgia law, if no single gubernatorial candidate gains at least 50 percent of the vote, a Dec. 4 runoff will be scheduled.